Muscle and flourish take centre-stage as latest SUV wows Colombo at exclusive preview
Colombo, Thursday 6th February 2020: The inspiration for its name may be rooted in mythology, but Kia's Seltos SUV wowed the audience with its very real looks and muscle at a grand Colombo preview befitting the debut of a new automotive deity from the pantheon of the Korean car maker.
Derived from Celtus or Celtos — the son of Hercules — the 2020 Kia Seltos is unashamedly confident, and is clearly the result of a marriage of bold design and delicate details, with its 140 horsepower 1.4 litre turbo-charged petrol engine and 7-speed dual-clutch automatic transmission hinting at ample power for city or wilderness, and a cabin crafted with meticulous attention to detail suggestive of a readiness for upscale adventure.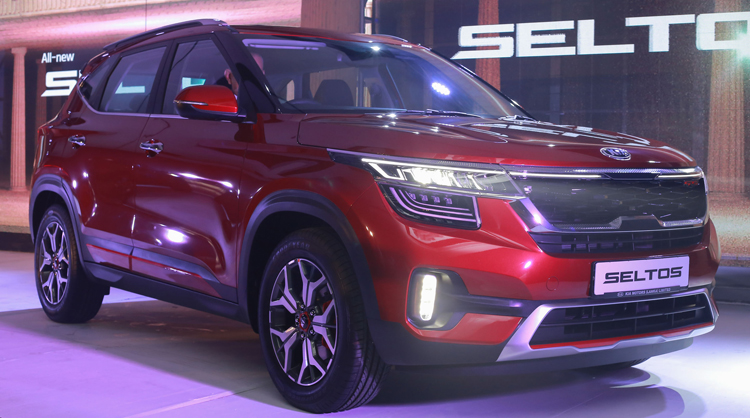 Standing apart from rivals with its strong, upright stance, the Seltos' tall front end and high ground clearance translate to a tough attitude and a daring spirit. Its comfortable and tech-savvy cabin, a choice of two well-tested engines (a CRDi VGT 1.5 litre diesel is expected in the market soon ), front and rear skid plates and black wheel arch cladding, 17-inch alloy wheels, A.B.S with Electric Stability Control and Hill Start Assist Control, all speak to off-road abilities above those of its class and size.
The gala preview accorded the Kia Seltos at the Oak Room of the Cinnamon Grand with the attendance of the diplomats, sporting legends and celebrities associated with the Kia nameplate and a cross section of Colombo's business community, reflected the high expectations of Kia Motors (Lanka) for the new SUV – the third launched in Sri Lanka since November 2019.
Speaking at the event, Kia Motors (Lanka) Managing Directors Mr Mahen Thambiah said: "We are great impressed by the Kia Seltos not only because it has been designed to meet millennial expectation, but because it perfectly combines modern styling and sophistication with well-engineered capability; is right-sized and as important, right-priced for the market; is rugged and refined at the same time; and has a lot of coolness and character. The Seltos is a great example of Kia's Power to Surprise."
The Selto's strong and rigid body is composed of 61 per cent advanced high-strength steel and is further enhanced with 374 feet of structural adhesives. It offers a choice of three drive modes Normal, Eco or Sport – each using specific settings for powertrain, drivetrain and steering mapping to provide the desired driving experience.
A spacious and Versatile cabin with generous hip, shoulder, leg and head room in both rows, offering more interior volume than most rivals, enhances its credentials as an ideal vehicle for leisure driving, as does the abundance of cargo space that can be expanded by lowering the adjustable luggage board.
Even back seat passengers can stretch out thanks to the Seto's rear-reclining feature. When there is nobody in the back and some extra room is needed for larger items, the rear seat can be folded down and the luggage board lifted for a flat loading surface allowing expansive cargo volume. Whichever way its folded, split or lifted, the Seltos is a leader in its class in space and Versatility.
Priced between Rs. 6.9 million and Rs 7.6 million, the Kia Seltos is backed by a warranty of five years or 150,000 Km.
Kia Motors (Lanka), which has represented the kia brand in Sri Lanka since 1996, recently underwent a change in corporate structure. With its new Rs 800 million Logistics Centre in Malabe as the hub for a network of owned subsidiaries and franchised satellite sales, service and spare parts outlets, the new operational structure is designed to drive a new phase of growth for KIA, one of the most popular automobile brands in the country.